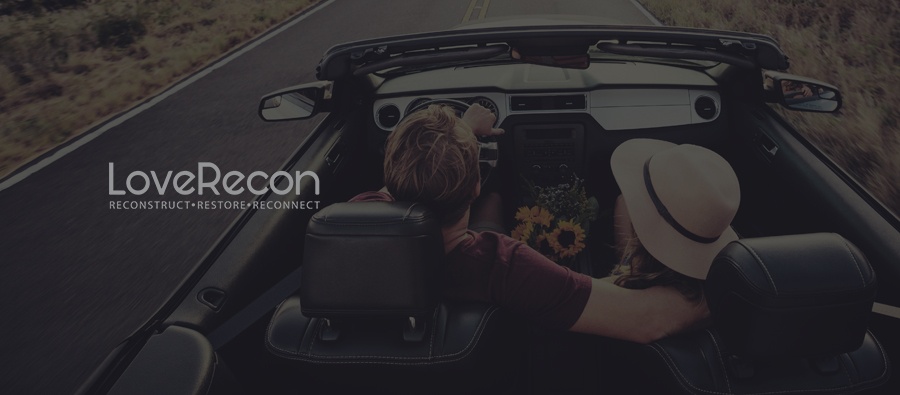 Warning: This is not your typical case study.
Yes, you'll learn how LoveRecon went from a new organization with no website, no leads, and no audience to a fast growing, purpose driven brand with hundreds of interested prospects and over 1000 fresh qualified audience members.
But, this success story is about more than just the numbers.
It's also a celebration of hundreds of saved marriages and changed lives. It's proof of the power of digital marketing when combined with purposeful messages sent to the right audience.
In this case study, I'll be sharing the goals, challenges, strategy, results, and lessons we've learned along the way so that you can take this information and imagine how it could work in your business.
But before we dive in, here's some background and a story.
LoveRecon.org is a non-profit organization that provides interactive workshops for couples and individuals who want to strengthen their relationships with themselves and their significant others.
The LoveRecon program is the same program that saved the marriage of Pulse Marketing's founders, Serena and Kyle Mastin, when they were going through a seemingly hopeless and dark time in their relationship.
"When our marriage was hopeless and both of us were completely broken, LoveRecon taught us to look within ourselves to identify the core issues, to be fully transparent, forgive ourselves (and each other) and has given us the tools to have a healthy thriving relationship.
We're not perfect, but we love each other unconditionally despite our imperfections. One thing in life worth fighting for, even when you have no fight left… is your marriage." – Serena Mastin
Goals
Our goal was to generate awareness and leads for the LoveRecon brand and LoveRecon events with a relatively small ad spend.
Challenges
Like many new brands, LoveRecon didn't have an established social presence or audience.
They didn't even have a website.
When we began working together, they were a newly established organization with no brand recognition, a small budget, and a big vision – to help couples strengthen their relationships and save their marriages.
We love a challenge ;) and we also believe relationships are the foundation of success. If we could help LoveRecon invest in people, we knew we all would naturally see results.
Strategy
To achieve the best results for digital marking/advertising, it's important to know and understand who you are talking to, who you want to work with, and what solution you can give them.
One benefit of starting everything from scratch for LoveRecon was that we were able to do extensive research and create ideal customer personas for each of LoveRecon's events.
We were able to create the exact profile of the people we wanted to reach. From their demographics down to their interests and purchasing behaviors online.
Those ideal customer personas helped us develop and create high converting Facebook ads and target the exact audience that should respond positively to those messages and creative.
Because LoveRecon didn't have any social media presence and we knew that it would hurt conversions if people saw our ad and noticed that LoveRecon had never posted any content, we developed a social media content strategy and creation schedule for them.
The Facebook ads and social media content all connected to a branded landing page we created for them while we designed and developed their website.
Results
Facebook Advertising: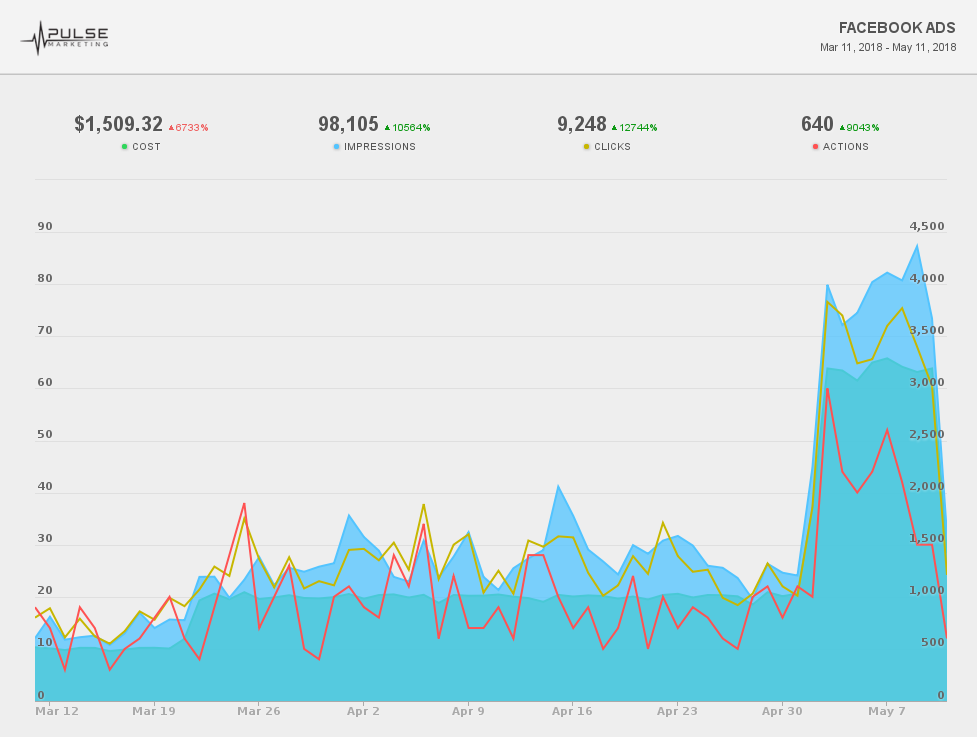 In two months, we generated and collected 640 event leads for about $2.35 each.
That's 640 qualified and interested individuals who have expressed desire to attend a LoveRecon event.
Such a massive influx of qualified prospects and interested audience members was a huge contributor to the successful launch of the LoveRecon brand.
Social Media Management: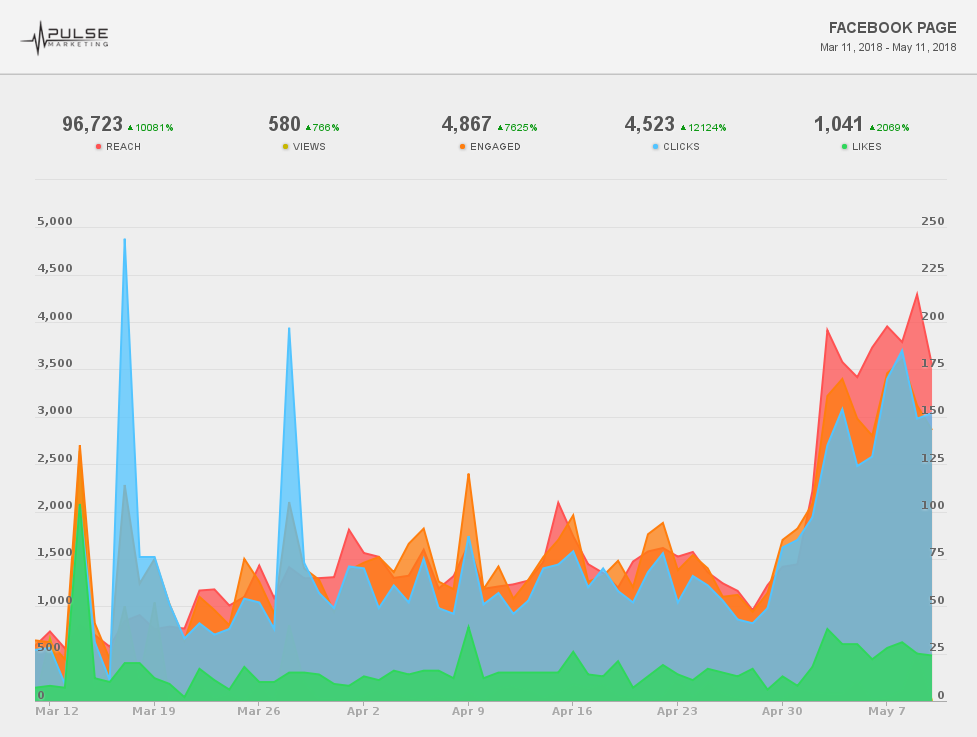 We reached almost 100,000 people on Facebook and generated over 1,000 new likes on their business Facebook page.
Building this asset helps LoveRecon exponentially increase engagement, social proof, brand awareness, and build community. Which ultimately allows them to reach more of the right people with their message.
Needless to say, we felt pretty good about the results and look forward to continuing to help LoveRecon invest in and serve others, helping save marriages and change lives.
Lessons
So, what?
At the end of a case study like this, I know you're asking yourself how you can implement any of this into your business or brand.
Right?
Here are some value-packed takeaways:
Discover what you are actually selling.

Before you think about advertising, ask yourself what problem or pain does your product or service actually solve? Get as deep as you can. Take the time to get this right and you'll be miles ahead of your competition. In LoveRecon's case, they not only give couples tools but also the confidence and the space to learn how to use those tools to repair and build a thriving relationship. They help people love themselves and others the right way.

Ideal customer persona research is vital.

The big difference between successful brands and ones that die off is the right balance of message, market, and offer. You need to take the time to write out the exact people who need your product or service's solution (what you're actually selling from point 1). How old are they, where do they live, what blogs do they read, how much money do they make, are they married, etc. Need help? Read 6 Easy Steps to Research Your Buyer Persona

Appeal to emotions first, logic second.

One thing that helped make our ads so successful was that we appealed to our target customer's emotions in our ads. We asked them a question that we thought would evoke an emotional response in their brain (yes, we got a little sciency). We then finished each ad by appealing to the logic of our prospect, explaining the benefits and finally offering them a small discount to help decrease the pain of price.

Get social!

Social media is mandatory. If you plan on being in business for the next 10+ years you need to be active and building an audience on at least one social media channel. As you can read above, we built up LoveRecon's Facebook page likes from 0 to over 1,000. Now they can make offers to that audience for free. We can also build custom audiences of people who are similar to individuals who like the page. Yes, talk about power. We will be able to reach people who are highly likely to be interested in what we have to say – exponentially increasing LoveRecon's chance of success in their market.
Conclusion
Facebook advertising and social media management is only a small part of what it takes to be successful online and it's only a couple ways we help businesses and organizations grow.
If you're interested in learning more about how Pulse Marketing can come along side your company or organization, please contact us here.
Thank you so much for reading and sharing this case study. If you're interested in learning more about LoveRecon and/or attending its events, or know someone who might be, please visit LoveRecon.org.
If you have any questions about Facebook Advertising or Digital Marketing in general, leave a comment below and I'll be happy to leave an answer!