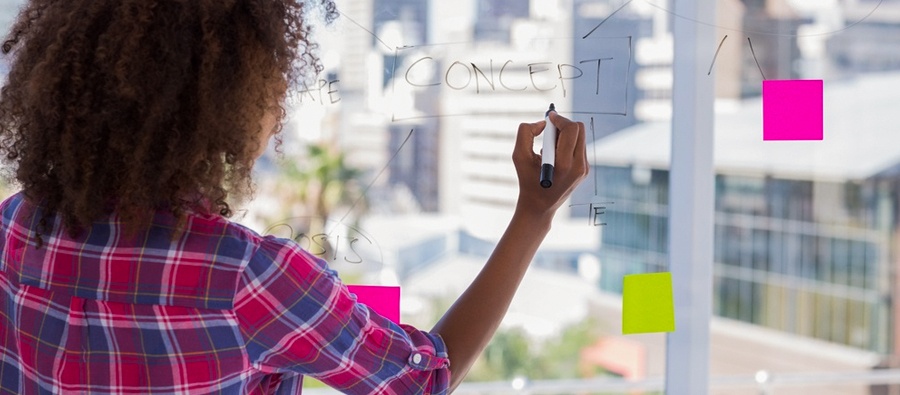 SO, WHAT IS A DESIGN SPRINT?
"The sprint is a five-day process for answering critical business questions through design, prototyping, and testing ideas with customers. Developed at GV," (Google Ventures) "it's a "greatest hits" of business strategy, innovation, behavior science, design thinking, and more—packaged into a battle-tested process that any team can use.
Working together in a sprint, you can shortcut the endless-debate cycle and compress months of time into a single week. Instead of waiting to launch a minimal product to understand if an idea is any good, you'll get clear data from a realistic prototype. The sprint gives you a superpower: You can fast-forward into the future to see your finished product and customer reactions, before making any expensive commitments."
"On Monday, you'll map out the problem and pick an important place to focus. On Tuesday, you'll sketch competing solutions on paper. On Wednesday, you'll make difficult decisions and turn your ideas into a testable hypothesis. On Thursday, you'll hammer out a high-fidelity prototype. And on Friday, you'll test it with real live humans."
- http://www.gv.com/sprint/
Jake Knapp himself describes the five-day sprint as follows:
Day 1: Understand - Dig into the design problem through research, competitive review, and strategy exercises.
Day 2: Diverge - Rapidly develop as many solutions as possible.
Day 3: Decide - Choose the best ideas and hammer out a user story.
Day 4: Prototype - Build something quick and dirty that can be shown to users.
Day 5: Validate - Show the prototype to real humans (in other words, people outside your company) and learn what works and what doesn't work.
HERE ARE FIVE REASONS YOU SHOULD CONSIDER A DESIGN SPRINT FOR YOUR BRAND:
01. YOU CAN GAUGE CREATIVE CHEMISTRY
Creativity flows best in a team of like-minded individuals so it's crucial that your team works well together. One benefit of a design sprint or study is that you can discover and work out any kinks in your team before engaging in a long term project.
02. YOU GET CREATIVE ALIGNMENT ACROSS EACH DISCIPLINE INVOLVED
Design, which revoloves around creativity, also flows best in a team of like-minded individuals. A sprint gets graphic designers, web developers, marketers, and social media professionals on the same page from the start of the project. Getting input from people in each discipline throughout the process protects a design team from the dreaded scenario where weeks are spent on a project, only for the all the work to be scrapped by a single persons opinion.
03. YOU PRODUCE ORIGINAL WORK AND THEREFORE "OWN THE PROJECT"
Everyone and their mother has a moodboard or style guide. These are often made up solely of inspiration from other places though... There is no problem with taking inspiration from something but a design sprint takes this to the next level. Because the ideas in a sprint are generated by you and your colleagues bouncing ideas off of each other, you will have more of a feeling of ownership in the project and this will likely result in your team having full investment in the project.
04. YOU GAIN VALIDATION BEFORE LAUNCHING
Today's consumers control brands so brand loyalty is an increasingly scarce commodity. Because of this, your brand will need to grow and evolve constantly. The sprint is the time to challenge your ideas, 'break' your brand, and veer away from outdated assumptions in marketing. If you do this, you will be able to get validation that you are moving in the right direction before you ever launch anything.
05. YOU MAXIMIZE VALUE FORM MINIMUM TIME
A design sprint helps to build brand transforming momentum by placing constraints on your team that force them to focus on outcomes rather than outputs. When your team has a short time to finish a project, they are forced to focus more on solving the challenges that matter the most.
---
Don't forget to check out our website or contact us directly at info@pulsemarketingteam.com.