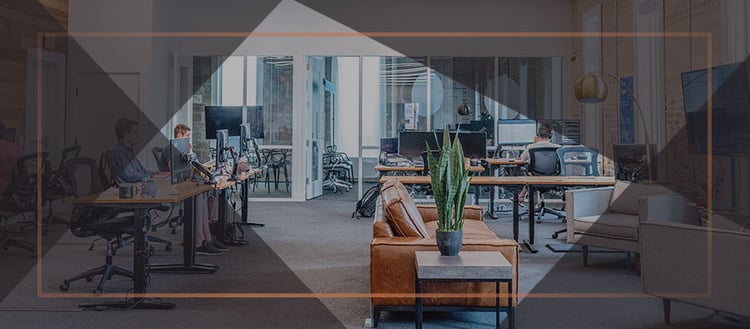 The design of your office is important because it sets up the entire atmosphere of your company. More and more companies are transforming their spaces into an open office layout to align with the current trends and allowing for a more collaborative environment. While not many companies may see this change as an effective one, here are some reasons to think about it from a different perspective.
Advantages
Effortless Communication
Having an open floor plan in your office can have a huge impact on your employees. With the absence of walls, it allows your employees to communicate with each other on a regular basis. Team members can get feedback or share ideas on a project without having the hassle of trying to schedule a meeting or knocking on doors.
Encourage Collaboration
Another great benefit is collaboration. An open office space enhances the flow of information, teamwork, and conversations between all levels of employees. This way the boss isn't hiding away in a corner in their intimidating office and seen as someone who is unapproachable. This also leads to the building of relationships in the workplace, where co-workers can get to know one another on a level deeper than simply professional.
Improve Employee Morale
Studies show that it's not physically or mentally healthy for employees to sit at a desk hunched over all day. An open office environment allows employees to get up and move around more often. Having a closed office layout creates the absence of face to face conversations. There are psychological and productivity benefits from in-person communication in the workplace that web-based tools, like Slack, can't and shouldn't replace. We're human beings and having a real conversation is important.
Reduce Construction Costs
Not only does this open office environment have a beneficial impact on your team, but it also has an impact on your business costs. Without having the extra labor and materials needed to build walls you save on construction costs. Not only that, but the company's cost on utilities and office equipment decreases. Having just one workspace reduces heating/cooling and electricity expenses because of the improved airflow and natural lighting. With a communal space, office equipment is shared, therefore the expenses of printers, copiers, and staplers are minimized.
Disadvantages
Some may see the open office environment as a distraction. It can get noisy with people talking with one another. Employees may think they have no sense of privacy either. Implementing certain policies, like a do-not-disturb rule could be an effective way to ensure this won't happen. Over here at Pulse, we have a "black-out period" where for 2 hours during the day we as a team are focused on our work. This ensures there are fewer distractions during the day and that projects are getting full attention.
Best of Both Worlds
If having an open office environment still doesn't seem like something your business is prepared for, find a compromise between an open and closed layout. You can have seating clusters for collaboration with standing and sitting work stations or separate open seats for coffee breaks. This allows for some aspects of an open office concept, and by incorporating rooms for quiet tasks like meetings and calls, it allows flexibility for the closed office concept. This way you can still have the communication between team members, while still allowing for privacy when needed.
The open office environment is a common trend with the new companies that are being established. With benefits such as, increased collaboration, employee health, and lower construction costs what company wouldn't want to change the layout of their office. Here at Pulse Marketing, we operate in an open office layout and it allows us to work effectively by bouncing creative ideas off each other and communicating as a team.
Sources
https://nycofficesuites.com/2017/10/26/key-advantages-open-floor-plan-office/
https://www.smbnation.com/analysis/2346-what-are-advantages-disadvantages-of-an-open-plan-office-space
https://blog.capterra.com/benefits-disadvantages-of-open-office/
https://cultureiq.com/blog/quick-guide-to-pros-cons-open-office-floor-plan/